The All New Disney Springs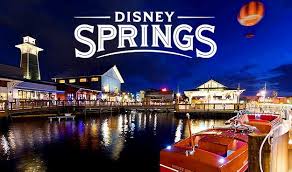 Downtown Disney has been transformed into the all new Disney Springs over the past few years. Inspired by real Florida coastal towns like Coral Gables and St. Augustine and has four distinct neighborhoods: Town Center, The Landing, Marketplace and the West Side. Each neighborhood has it's own feel and backstory created by Disney Imagineers:Town Center - Settled by a cattle rancher in the 1800's due to the natural springs in the area. D-Luxe Burger is housed in what use to be a settler's cabin. Be sure to look for the fireflies in the trees at night. The Landings - was the transportation hub of settlement and includes remnants of a railroad. STK is in the old railroad station. Marketplace - was the retail hub of the settlement and has American Craftsman theming from the 30's throughout the buildings. West Side - was built in the 1950's as the town's expo. The circus tent and hot air balloon remain from the expo. Keeping an eye out for references to the backstory will surely enhance the time you spend in Disney Springs.
Guests can now enjoy nearly double the shops and restaurants. Some of the New Retail Locations Alex and Ani American Threads Chapel Hats Coca-Cola Store and Rooftop Beverage Bar Erin McKenna's Bakery NYC Francesca's Kate Spade New York Lilly Pulitzer MAC Cosmetics Pandora Sperry Under Armour Vera Bradley
Some of the New Dining Experiences Amorette's Patisserie B.B. Wolf's Sausage Co. The BOATHOUSE Homecomeing: Florida Kitchen and Shine Bar Frontera Cocina Jack Lindsay's Hanger Bar Morimoto Asia Paddlefish STK Orlando Guests can now also enjoy a Welcome Center which includes a place to relax and enjoy the beauty along the water's edge of the stream. To learn more about Disney Springs, contact your As You Wish Travel Planner.