2015 MNSSHP dates announced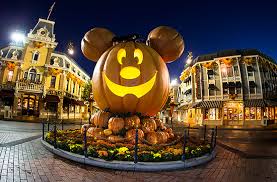 We have an update on this year's Mickey's Not So Scary Halloween PartyWhile the tickets for the 2015 party dates will likely not go on sale for another two months, the recently-released Epcot Flower and Garden Festival event guides do have the dates for this year's parties listed on the back cover.
The 2015 party dates are as follows:
September: 15, 18, 20, 22, 25, 27 October: 1, 2, 4, 6, 8, 9, 12, 13, 15, 16, 18, 20, 22, 23, 25, 27, 29, 31 November: 1
Interestingly, the party dates are starting later this year than last year, when the first party was offered two full weeks earlier (in the summer actually!) Personally, Labor Day just seemed way too early for Halloween Festivities, so this new start date seems to make better sense, and still allows for 25 parties to take place this season, which is only 1 less than the 2014 offerings. This means more parties per week, which will impact the MK availability of non-party nights in September and October. Something to keep in mind for those guests planning visits to WDW during these months.
If you are considering attending this year's Not-So-Scary Halloween Party, check out our past blog entry which featured info and details on the party: http://aywvacations.com/2014/09/mickeys-not-so-scary-halloween-party.html