Sneak Peak at the new Art of Animation Resort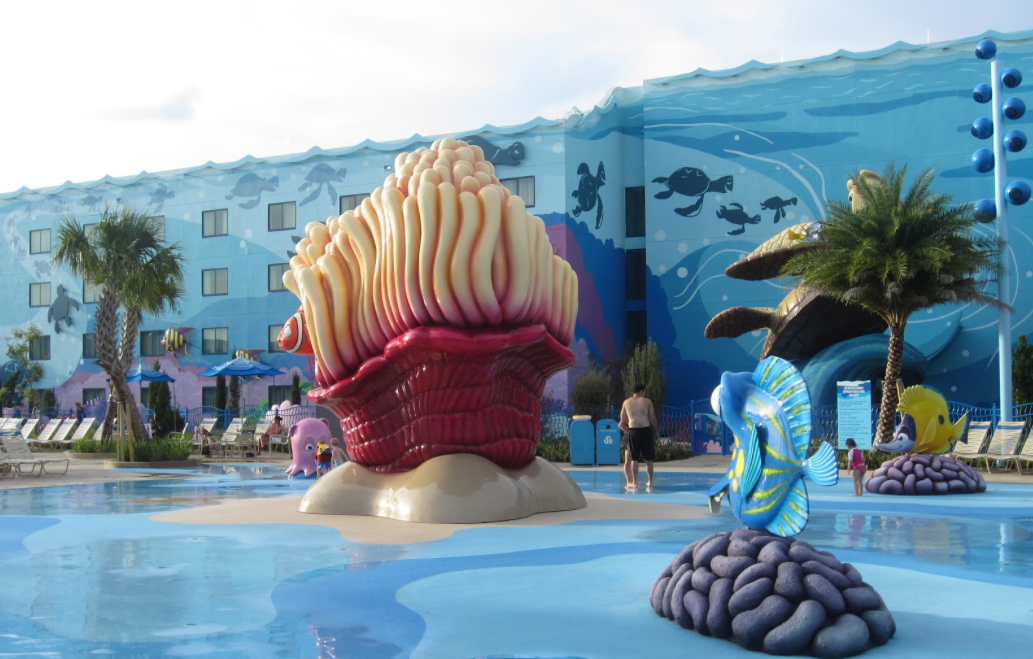 While on our last visit to the World we were lucky enough to take a little visit to the new Art of Animation Resort.  We were not staying here this time (we have to wait til Christmas) but we were staying over at Pop Century, right across the lake, so it was very accessible by just taking the Generation Gap Bridge!  Chris and I love to run at Disney (and we had a long run scheduled while we were there anyways) so we started our long run by heading over to the AofA so we could get a look at Disney's newest resort.  We came over across the bridge and saw the Big Blue Pool area first, SOOOOO cute and large, it is absolutely perfect for swimmers of all ages with it's zero entry access and bright colors and play areas right around it... boy I hope the weather is warm at Christmas to be able to take a dip!   We than ran around to the right where the Lion King area is.  The outside of the buildings are deceiving, there are sketches of characters and then some more colorful scenes, ok, cute, right!  Then you get in to the interior of the area and that is where the magic is!  I wish I had more pictures to show you just how amazing they did this resort with the theming!!  (Don't worry, come Dec I will have plenty, maybe before that if we get to go for Thanksgiving). They took scenes from the movies that are represented and made them larger than life, I applaud Disney once again for their attention to detail and fully immersing you in the movies and magic.
The Little Mermaid section was still under construction a little, it will be opening Mid Sept.  While all the buildings offer suite accommodations for families of 6, The Little Mermaid section will have standard rooms just like the other Value Resorts that sleep 4 making this a great affordable option for smaller families! The Little Mermaid section also has the exterior entrances to your rooms as the Value and Moderate resorts have, however the other sections with the suites have interior corridors (I thought that was pretty cool).
The food court was very nice as well.  Much like the other food courts in the Value resorts there are stations, however the options are so different and the food is made to order fresh (so some times a little extra waiting).  I had the most delicious Caprees Sandwich, so yummy for a quick service option!  I hear the meatball subs are wonderful along with a crab cake sandwich with shrimp on top.  What is also nice is you get real silver wear and plates as opposed to paper plates and plastic wear (it's the small things).